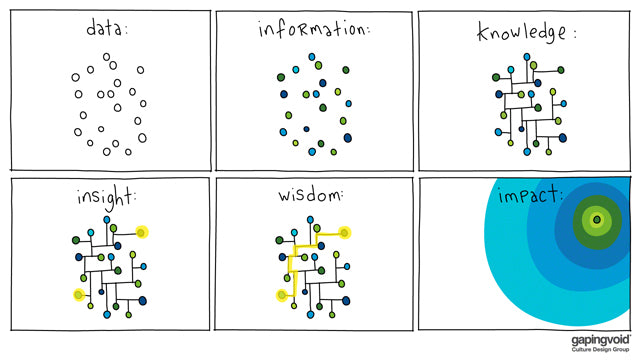 Data Information Knowledge Insight Wisdom Impact
$25.00
Gapingvoid Virtual Backgrounds for Zoom Meetings, Microsoft Teams, and more!
This is 100% accurate
My entire job is getting insights out of data to drive impact. Can confirm: this is 100% accurate.
Awesome
Whenever I join a Zoom folks ask "where did you get that cool background". I then explain our relationship with Gapingvoid and suggest that they reach out.
Great background
This background is topical for me, so it is especially useful to have as a background. I use it mostly for Microsoft Teams but have used it for Zoom. Several colleagues have observed that it looks like I'm in a studio. There was one instance on Zoom where it flickered badly, so don't know if it was a function of the connection, Zoom, or something else. Other than this, it has been great.
Mixed results without a Green screen
Worked well on Teams but on Zoom the mostly white nature washed me out of the video. Zoom advises a green screen that I don't have so that might be part of the problem. Otherwise positive results from those at the other end, especially on Teams.