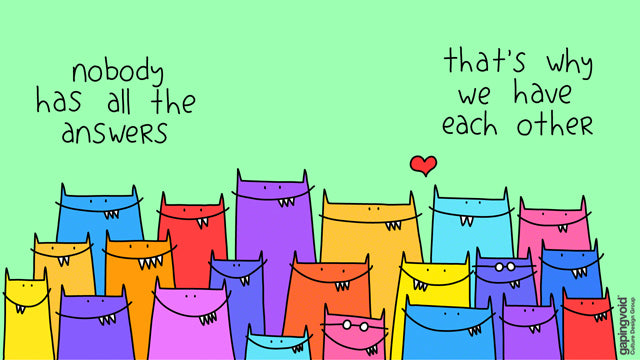 Nobody has all the Answers
$25.00
Gapingvoid Virtual Backgrounds for Zoom Meetings, Microsoft Teams, and more!
Let' support each other and help each other grow
Just love the colorful background with the great message! Stronger together! The small heart is a beautiful detail. Makes colleagues dare to be open and to ask difficult or ('stupid') questions more easily.
Great virtual background for Teams, Zoom, etc.
I held off using virtual backgrounds, because I didn't like all the 'normal' backdrops people used (plus it makes your head look funny). But, I don't mind my hair looking funny if the message is funny ... and what better message in these times that we need one another.
Virtual backgrounds
I love the images, I have printed a couple of so I can see them. However they do not all work terribly well as intended, I have followed Zoom's help for the background settings but sadly they still don't work as well as they might. I thought it might be my lap top but it is a Windows 10 machine with all the latest updates including a windows green screen
Taking on the World!
These backgrounds send such powerful positive messages. They are fun, innovative, thought-provoking and gorgeous. Gaping Void and Hugh McLeod have been longtime favourites and now I get to share them everyday. Thank you!